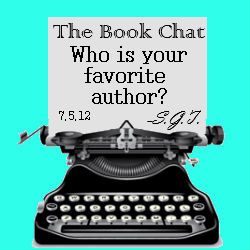 The Book Chat is a weekly meme hosted by Sweet Green Tangerine on Thursdays. Each week there is a new topic up for discussion, and this week's topic asks "Who is your favorite author?" My answer would have to be this guy right here:
I'll tell you why. John Green has not only written some of the most amazing and bestselling books for today's youth (without the need for paranormal creatures or sequels), but he has also been the co-host of the popular YouTube channel, Vlogbrothers, along with his brother, Hank. He is my favorite author because in addition to reading his books, I am also connected to him through his videos, which make me feel as though I actually know him. John Green is not just an author I love, but my friend. I have been watching his videos as they have been released - three times a week since 2007. That's a lot!
I love that he enjoys staying connected to his fans - enough so to start such a large and awesome community of Nerdfighters, and chat with them not only through YouTube, but also through sites like Tumblr and Twitter. Knowing more about how an author is as a person really makes their books more meaningful to me. Not that his books wouldn't be any less awesome if I hadn't seen a Vlogbrothers video, i
t just helps to know the man behind the words. I mean,
Looking for Alaska
was the only book I've read that I had to set down because I started crying my eyes out and re-evaluating my life. A book has never made me feel that much before.
Plus, John Green writes in an engaging way - he has me hanging on to each and every sentence. I always feel for his characters, and while a couple of his novels make me emotional at certain points, he still has this way of always making me laugh out loud - which can be a bit embarrassing if I'm out in public.
Books By John Green
Let It Snow
(also featuring stories by Maureen Johnson & Lauren Myracle)
***************
While John Green is my absolute favorite author, I do have some other favorites. They are: Charles Dickens, Terry Pratchett, Neil Gaiman, Ray Bradbury, and Dean Koontz.