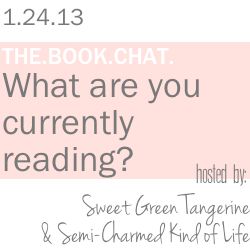 This week's discussion is all about what books we are reading, and at the moment, I am reading two books and one novella. They are:
Siege by Rhiannon Frater
Siege is the final book in Rhiannon Frater's As The World Dies trilogy - a zombie series that is all about people who are fighting to survive in a dying world. I absolutely love this series and its' characters! I'm about 31% through this novel (which is longer than the previous books in the series), and I am keeping my fingers crossed that my favorite people make it through....Luckily for me, Frater has also put out a couple of volumes of short stories (soon to be three!) featuring background stories for some of the minor characters in this series. This means that once I finish the trilogy, I get to stay with these peeps a for a little while longer! Yippee!
* Check out the first book in this trilogy
HERE
Through The Ever Night by Veronica Rossi
Through The Ever Night
is the second book in Veronica Rossi's
Under The Never Sky
trilogy. Let me tell you, I did not expect to love this series as much as I do! On my kindle, I am exactly 58% through the story, and since I started this series, there has never been a dull moment! I think the reason I love it so much is that it is told from two perspectives: the chapters alternate between the characters Aria and Peregrine, so everything isn't always one sided. I had to put it on pause so that I could read the novella that Rossi wrote on the characters Roar and Liv, as knowing their background will surely play a crucial part in understanding the rest of this book.
* Check out the first book in this trilogy
HERE
Roar and Liv: An Under The Never Sky Story by Veronica Rossi
I've just barely started this novella, so I don't have much to say about it, but I truly
adore
Roar, so I'm excited about this! I don't really know much about Liv, but if Roar loves her, then she must be pretty cool.
I am expecting this to be a quick read, that way I can finish up
Through The Ever Night
.
*~*~*~*
I tried to keep this short, so sorry for not including the synopsis for these books. If you'd like to know more about them, you can read their descriptions on Goodreads by clicking on their pictures above. So, now that I've told you about what I'm reading, I'd like to know what you're reading. Let me know in the comments!