How do you keep track of your TBR pile?
I use the Goodreads "to read" tag, but otherwise, that's it. Not that exciting, I know, but periodically I peruse through the tag to find out what I should buy next or check out from the library.
Is your TBR mostly print or ebook?
Ummm....neither? My TBR is a Goodreads list of what I want to read, so it doesn't matter if I end up reading a book in its print or ebook form, if I want to read it, I mark it "to read,' and that's that.
How do you determine which book from your TBR to read next?
It's totally random - anytime I read something, I have to feel like reading it at that particular moment. It's completely based on impulse, whether the book happens to be on my TBR or not.
A book that's been on your TBR list the longest:
They say opposites attract. And in the case of werewolves Anna Latham and Charles Cornick, they mate. The son-and enforcer-of the leader of the North American werewolves, Charles is a dominant alpha. While Anna, an omega, has the rare ability to calm others of her kind.




Now that the werewolves have revealed themselves to humans, they can't afford any bad publicity. Infractions that could have been overlooked in the past must now be punished, and the strain of doing his father's dirty work is taking a toll on Charles.




Nevertheless, Charles and Anna are sent to Boston, when the FBI requests the pack's help on a local serial killer case. They quickly realize that not only the last two victims were werewolves-all of them were. Someone is targeting their kind. And now Anna and Charles have put themselves right in the killer's sights...
The moment that I started utilizing Goodreads (I had an account for a long time, but only started using it these past few years), this was the first book I added to my TBR. I love this series, but sadly, haven't gotten around to reading it because I know I'll have to re-read the first books, and I've been too busy reading "new-to-me" books. Next year, I plan on joining a re-reading challenge, that way I'll have an excuse to not only finish this series, but to finish many other series that involve re-reading (such as The Morganville Vampires).
Fifteen top voices in speculative fiction explore the intersection of fear and love in a haunting, at times hilarious, darkly imaginative volume.




Predatory kraken that sing with - and for - their kin; band members and betrayed friends who happen to be demonic; harpies as likely to attract as to repel. Welcome to a world where humans live side-by-side with monsters, from vampires both nostalgic and bumbling, to an eight-legged alien who makes tea. Here you'll find mercurial forms that burrow into warm fat, spectral boy toys, a Maori force of nature, a landform that claims lives, and an architect of hell on earth. Through these, and a few monsters that defy categorization, some of today's top young-adult authors explore ambition and sacrifice, loneliness and rage, love requited and avenged, and the boundless potential for connection, even across extreme borders.
This is the latest book to make it to my TBR list on Goodreads. Frankly, it just sounds cool. I used to love anthologies as a kid, and while there are plenty of them on my TBR, I just haven't gotten around to reading any of them, which sucks, because they'd make great reads for when I'm in a reading slump, or for reading right after finishing a really great novel (which is usually when I take a break from reading, because I'm reluctant to leave the world I was previously in).
A book on your TBR strictly because of its beautiful cover:
Since the night of the crash, Wren Wells has been running away. Though she lived through the accident that killed her boyfriend Patrick, the girl she used to be didn't survive. Instead of heading off to college as planned, Wren retreats to her father's studio in the far-north woods of Maine. Somewhere she can be alone.




Then she meets Cal Owen. Dealing with his own troubles, Cal's hiding out too. When the chemistry between them threatens to pull Wren from her hard-won isolation, Wren has to choose: risk opening her broken heart to the world again, or join the ghosts who haunt her.
Honestly, I loved this cover from the moment I laid eyes on it. Once I read the synopsis, I wasn't too excited to read it, since it didn't sound particularly enthralling, but it didn't sound that bad. I still don't know if I'll get around to it, but I sure do love that cover!
A book on your TBR that you never plan on reading:
Imagine her shock when Violet Colby discovers she has an identical twin sister she never knew existed. Why her family was torn apart remains a secret no one can answer—yet. Hoping to develop a sisterly bond, Violet invites her sophisticated city twin to the Colby Ranch in tiny Grasslands, Texas.




But when her sister's former fiancé arrives with questions of his own, country girl Violet finds herself drawn to handsome businessman Landon Derringer. And learns that true love requires faith—and a heart as big as Texas.




Texas Twins: Two sets of twins, torn apart by family secrets, find their way home.
Honestly I don't really read anything Harlequin, unless it's Harlequin Teen, which puts out some pretty good paranormal romances. I don't even know why this is on my TBR to begin with, but I think I read a good review by a fellow blogger and decided to add it. I don't know if I'll actually ever read it, but I'll keep it on my TBR just in case. It's always good to read books out my comfort zone, and I do have a thing for love stories, but I tend to show a bit of prejudice towards Harlequin or anything with half-naked guys on the cover. Usually, it's because the writing ends up being way too bad for my liking, but who knows - maybe I should still give this a try. Eventually...


An unpublished book on your TBR that you're excited for: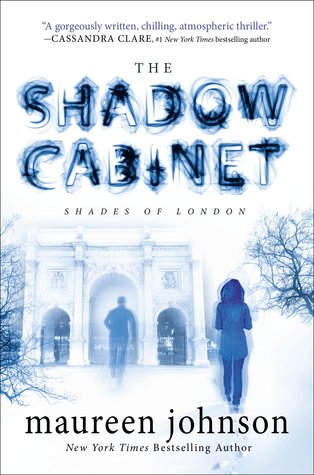 Grieving, shaken, and feeling very much alone, Rory's life as a member of the Shades of London has changed irrevocably. It's only been a matter of hours since Stephen was taken from her, possibly for ever. Her classmate Charlotte is still missing, kidnapped by the same people who tried to take Rory. Rory is no longer a schoolgirl haplessly involved in the dealings of a secret government unit. She is their weapon in a matter of life and death.




With hardly a moment to think for herself, Rory is back to work. Charlotte must be found -- as must Stephen, if he is even out there. Lines must be drawn and forces rallied. Something is brewing under London, something bigger and much more dangerous than what has come before. The Shadow Cabinet holds the key to everything, and it is up to Rory to unravel its mysteries before time runs out...
This is the third book in Maureen Johnson's Shades of London series, and is set to be released on February 5th 2015. I enjoyed the first two books immensely, as they reminded me of the books I loved most during my childhood (ghost-mysteries). These books are the only thing I've read by Maureen Johnson so far, but she is such a great person, and hilarious to follow on twitter, so I hope to read more from her soon. I love supporting my fellow Nerdfighters!
A book on your TBR that basically everyone's read but you: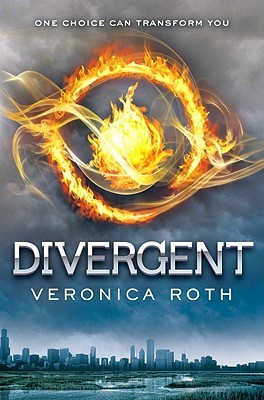 In Beatrice Prior's dystopian Chicago world, society is divided into five factions, each dedicated to the cultivation of a particular virtue--Candor (the honest), Abnegation (the selfless), Dauntless (the brave), Amity (the peaceful), and Erudite (the intelligent). On an appointed day of every year, all sixteen-year-olds must select the faction to which they will devote the rest of their lives. For Beatrice, the decision is between staying with her family and being who she really is--she can't have both. So she makes a choice that surprises everyone, including herself.




During the highly competitive initiation that follows, Beatrice renames herself Tris and struggles alongside her fellow initiates to live out the choice they have made. Together they must undergo extreme physical tests of endurance and intense psychological simulations, some with devastating consequences. As initiation transforms them all, Tris must determine who her friends really are--and where, exactly, a romance with a sometimes fascinating, sometimes exasperating boy fits into the life she's chosen. But Tris also has a secret, one she's kept hidden from everyone because she's been warned it can mean death. And as she discovers unrest and growing conflict that threaten to unravel her seemingly perfect society, Tris also learns that her secret might help her save the ones she loves . . . or it might destroy her.
I promise to get to this before ever seeing the movie, but there's just too much out there to read! This sounds great, but there are just a lot of books out there that sound more appealing to me. Honestly, this sounds like any other dystopian novel out there, though maybe I'm wrong, since there's such a large fan-base out there. But The Mortal Instruments has a large fan-base, also, and I really don't care for that series at all. I will get to this eventually - a lot of people I work with have already read and loved it, and they keep recommending it to me, so it's on my radar.
A book on your TBR that everyone recommends to you:
Please see above response.
A book on your TBR that you're dying to read: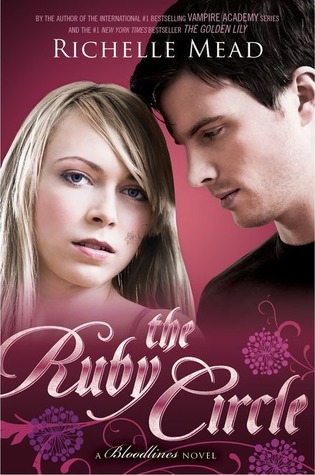 The epic conclusion to Richelle Mead's New York Times bestselling Bloodlines series is finally here...




Sydney Sage is an Alchemist, one of a group of humans who dabble in magic and serve to bridge the worlds of humans and vampires. They protect vampire secrets—and human lives.




After their secret romance is exposed, Sydney and Adrian find themselves facing the wrath of both the Alchemists and the Moroi in this electrifying conclusion to Richelle Mead's New York Times bestselling Bloodlines series. When the life of someone they both love is put on the line, Sydney risks everything to hunt down a deadly former nemesis. Meanwhile, Adrian becomes enmeshed in a puzzle that could hold the key to a shocking secret about spirit magic, a secret that could shake the entire Moroi world.
I truly CANNOT WAIT much longer to read this one...I read all of the prior novels one after another, and absolutely LOVED them! I even pre-ordered this one an Amazon so that I could read it the day it comes out. I'm so excited!!!
How many books are on your Goodreads TBR shelf?
As of right now there are 404, but new ones are always being added. I don't think I'll ever see the day when I've read them all...
I tag everyone reading this that hasn't participated yet, but wants to!